---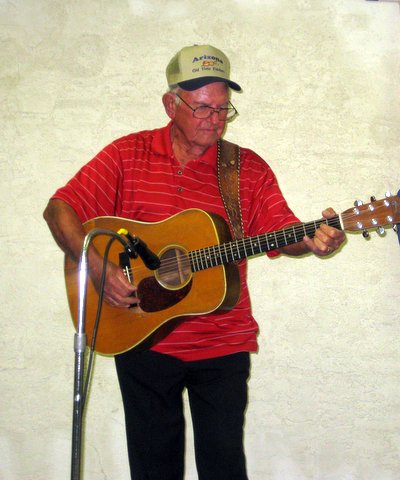 1932 ~ 2019
It is with great sadness that we report the passing of Bluegrass Legend Glen Wilbourn.
Glen was a long time member of the Arizona Old Time Fiddlers, who not only played
a great guitar, but was a wonderful fiddler as well.
You will be missed by all Glen, rest in peace.

The Arizona Old Time Fiddlers Association is proud to announce that a number
of our fiddlers attended the National Old Time Fiddle Contest in Weiser, Idaho.
Although we are not sure who all competed, the following were winners in their divisions:
Will McDonald won the 17 and under Swing Division
Will McDonald and Madison Dietrich were 3rd in the Twin Fiddle Division
Brie Dietrich won the National Small Fry Division
Aspen Dietrich came in 4th in the Small Fry Division
Ranelle Dietrich won the Best Entertainer in the Certified Division
Congratulations to these young fiddlers!! The future of Old Time Fiddling!!

The Greater Arizona Country Music Association and Hall of Fame invites you to join
them every second Sunday of the month at the C.A.S.A. building in
Prescott Valley from Noon to 4 PM for pot luck and music.
Memebership is $30 per person or $50 per couple for a year.
The Newsletter is called "The Country Beat".
Contact glarnoldgacma@gmail.com or call 928-821-1391 for more information.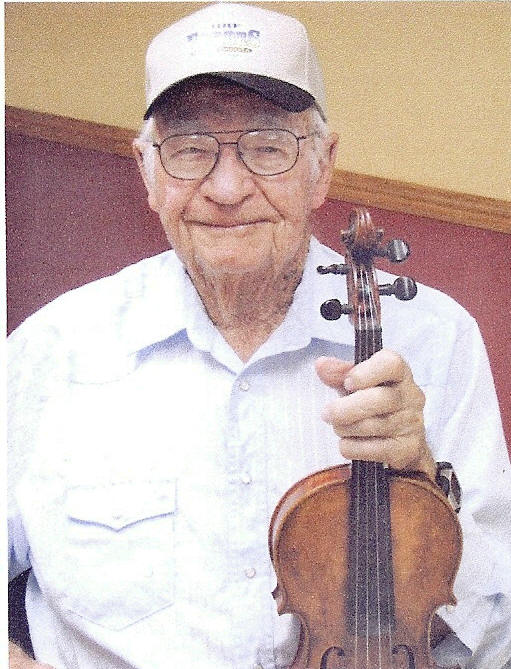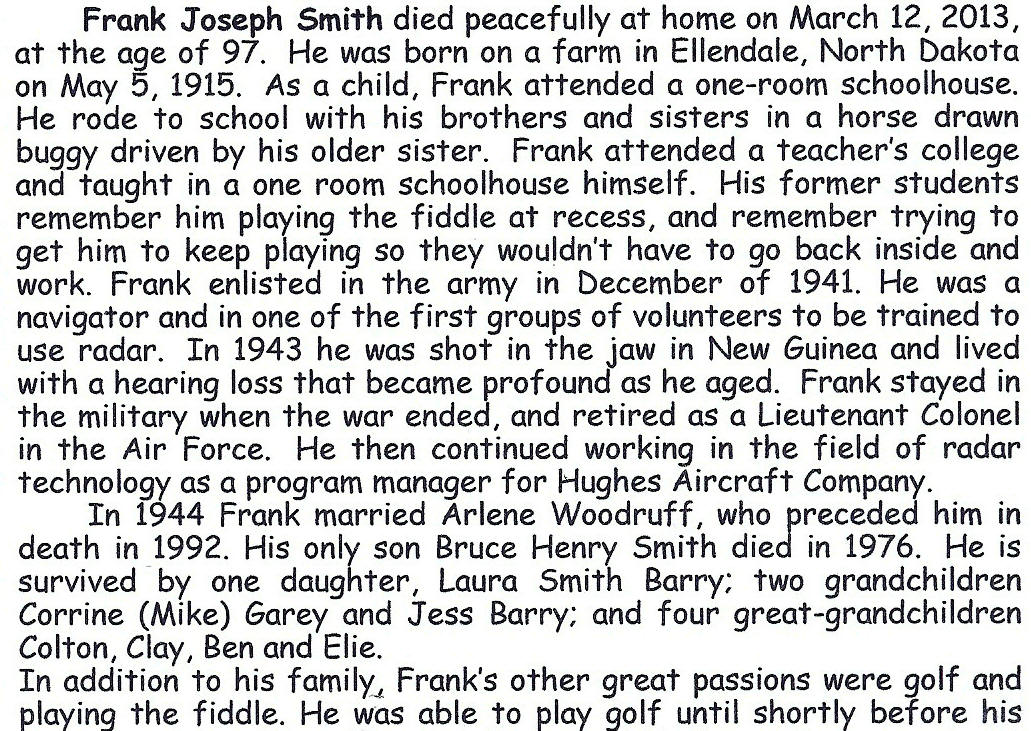 8/2/2012 12:01:00 AM
LOSS OF A LEGEND
'First Lady of Paulden' Ruth Gilpin dies at 98

Brett Soldwedel/The Daily Courier, file
Ruth Gilpin. a prolific fiddler, began playing Prescott's Acker Night in the early 1990s.
By Matt Santos

PAULDEN - Jessie Ruth Gilpin, who many considered the mother of Paulden, died Tuesday at the age of 98, after suffering from chronic obstructive pulmonary disease (COPD).

Born May 20, 1914, Gilpin and her family traveled west from Ohio in 1924, settling in what is now known as Paulden, Ariz.

In her autobiography, "Mile Post 337," published in 2010, Gilpin, an author and musician, stated that when her family arrived, the area was home to "only seven people, but now it is rated as having a population of over 4,000."

In the decades since the family arrived, traveling down Route 66 in a 1922 Ford, Gilpin spent much of her life documenting the history of Paulden, the small town that drew its name from her brother, Paul, and another local boy.

In the first of her two books, "Paulden Pioneers," published in 2001, Gilpin writes that following the death of her brother in a hunting accident, "The name Paulden was derived from the names of the first two boys to settle here - my brother Paul, and Tom Dryden. My brother was accidentally shot and killed only three months after my folks had settled here. They thought this would serve as a memorial to perpetuate his memory."

Gilpin's father, Orville T. Pownall, was the first postmaster in Paulden, running the post office from the family's store, Midway Grocery, at the location now occupied by the Paulden Park Place, or "Pink Store" as it is known to the locals.

Gilpin herself took over as postmaster, serving the community in that capacity from 1960 to 1972, retiring from the post office in 1977.

"When my grandparents and mom moved out here, there was nothing, just land and a few ranches," said daughter Barbara Cook. "Our family, my mom, really put the area on the map."

Cook says that one of her mother's strongest qualities was her kindness.

"If she ever told you off, you never knew it," Cook recalled with a smile. "She would get mad in the sweetest way, just a very kind person. She also was very active and her mind was very sharp."

One of Gilpin's passions was playing the fiddle as a member of the Mile High Chapter of The Old Time Fiddlers Association.

"My sister Mary played the guitar, she was very musically inclined, and my mother had played the fiddle as a child," recalled Cook. "After both my father and my brother in-law died, my mother moved in with my sister, who was involved with the Old Time Fiddlers Association. She hadn't played in over 50 years, but started again with Mary. Through Mary, mom picked it up again and really got involved with the group."

In addition to her two books, Gilpin also recorded a CD of fiddle music, "Sweeter with Age," at the age of 93.

Gilpin was also instrumental in the creation of the Chino Valley Aquatic Center, was recognized as the Woman of the Year in 2008 by the Sharlot Hall Museum, was nominated for the Governor's Art Award in 2009, and was inducted into the Arizona Fiddlers Hall of Fame in 2010.

"Last week, she wasn't feeling well," said Cook. "She had been given some medication, to help her relax, and as we pulled out onto the highway on the way to Hospice Care in Prescott, she was very tired. I told her to try and sleep. I'd wake her when we got there, but she said 'No, I'll never see this place again.' She stayed awake the whole trip from Paulden to Prescott, watching the area, watching out the window. She just wanted to see Paulden one last time."

When asked what she hoped her mother would be remembered for, Cook answered without hesitation.

"Paulden. That is her legacy. I think there are so many people that don't know where Paulden came from, but she loved the area. She loved the land, she loved the people, she loved the town." Funeral services Tuesday, Aug. 7, at The Church of Jesus Christ of Latter-day Saints, 441 W. Perkinsville Road, Chino Valley. Visitation will begin at 9 a.m. with services at 10 a.m. A graveside service will be at 2 p.m. at Mountain View Cemetery in Prescott. In lieu of flowers, donations can be made to the Arizona Old Time Fiddlers Association Mary Hill Memorial Scholarship Program c/o Ruth Gilpin, at P.O. Box 297, Paulden AZ 86334 or to the Hospice Family Care, 3195 Stillwater Drive, Suite B, Prescott, AZ 86305.

Matt Santos is a reporter for the Chino Valley Review.

Jessie Ruth Gilpin
Sharlot Hall Award Recipient 2008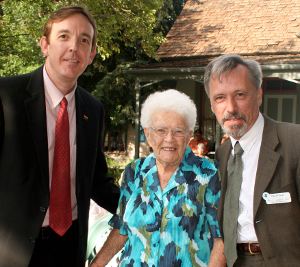 Jessie Ruth Gilpin, with Arizona Secretary of State Ken Bennett (left) and Museum Director John Langellier. Jessie Ruth Gilpin, the 94-year-old author, historian and fiddler whose parents founded the town of Paulden, has been honored as the 2008 recipient of the Sharlot Hall Award for valuable contributions to the understanding and awareness of Arizona and its history.
The award presentation took place at Sharlot Hall Museum's annual membership meeting on Thursday, June 18 on the Museum grounds. Arizona Secretary of State Ken Bennett, the meeting's keynote speaker, presented the award to Gilpin and congratulated her on her life achievements.
In accepting the award, Gilpin said, "I would just like to say thank you to everyone who had a part in choosing me, and to Mary Leavitt who nominated me for this award. I had no idea it was going to turn into something like this. It's a thrill of my life, especially with Ken here. I knew Ken when he was just a little guy, not very old. I was good friends with his mother and dad. I'm very happy to have gotten this award tonight."
Gilpin, much like Sharlot Hall, came to Arizona as a young girl and soon became deeply rooted in the State's history. Her parents founded Paulden, which consisted of a grocery store, café, gas station, garage, cabins, and a post office where she ultimately served as postmistress for some 17 years. She and her husband Lionel Gilpin raised their four children in Paulden.
Her interest in the area's ranching history inspired her to author Paulden Pioneer Family and Ranching History, detailing the lives of her parents and other early settlers of the area. Gilpin's second book details memories of her most interesting life. Over the years, she has played key roles in bringing a fire station to Paulden and a municipal swimming pool to Chino Valley.
At age 94, she remains active in community events and the preservation of local history, and continues as a cornerstone of the Arizona Old Time Fiddler's Association. An accomplished musician, Gilpin has won many awards over the years in state fiddling competition.

Last Updated
September 17, 2015